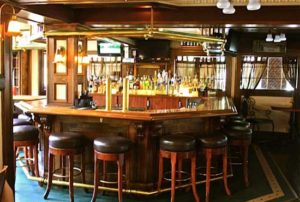 After a fun day at the Lake Arrowhead Village, and shopping at all of the shops and stores, you can stick around for the happy hour in some of the highly rated Lake Arrowhead bars, in southern California. Being a community that is almost entirely supported by tourism, each of the bars in Lake Arrowhead has different types of people who visit the respective bars for personal reasons. Taking a closer look at some of the highly rated ones will help one decide which bar they want to go to.
Lake Arrowhead Sports Grille is the place has the most extensive menu with beer specialty and a full bar. Especially on Tuesdays, they have different  beers in different glasses to take home. The servers are very knowledgeable about the different types of beers. It is perfect for casual sports fans, who want to cheer their favorite teams over a great meal or just drinks. It is located 27200 State Hwy 189, Blue Jay.
The Tudor House offers a full complement of Saturday evening entertainment live music performances. Also, guests enjoy Band, Burgers & Brews on Wednesdays, Friday night Supper Club, and Sunday champagne brunch
The Lakefront Taproom Bar and Kitchen is one of the bars in Lake Arrowhead known for its beer on tap. They have a unique beer list with lots of unique options. They also have wine on tap and cocktails for those who don't like beer. The Lakefront Taproom Bar and Kitchen has a great view of the Lake.
Rock & Brews San Manuel Casino is famous for its tribute bands usually in the evenings. So far the artists that have graced their stage include some of the big names such as The Beetles, Aerosmith, Tom Petty, and The Cure.
Bear Claw Saloon is a local bar in Crestline with karaoke every Fridays and Saturdays until 11 pm. The alcohol is always a full bar with a spacious patio available for smoking. It invites a large karaoke crowd with lots of music boxes.
The Lake Arrowhead bar is known for its excellent Bloody Mary served to the customers. It also offers drink specials and karaoke
Bin189 is located in Lake Arrowhead Village and offering a full impressive bar menu. The entertainment is impressive on Thursday nights with a jazz band, live pianist every Friday night and blues guitar on Saturday night.
The Saddleback Inn is located outside of the Village and is a full-service restaurant and bar. It is an excellent choice for dinner or just drinks.
Papagayos is a Mexican bar and restaurant that is distinguished from other Lake Arrowhead bars. It features an extensive Mexican menu and a full bar. Many of its customers say that this is the best place on the mountain to celebrate 'Cinco de Mayo.'
The Antler's Bar is located just down the road from Lake Arrowhead, in Twin Peaks. It is the best place for anyone who just wants to enjoy a few drinks in the picturesque location. Among all the other Lake Arrowhead bars, it is the perfect setting for celebrating an award winner with a quite dinner and some wine or drinks.
Not sure where you would fit in the Lake Arrowhead nightlife? Here are some guidelines on choosing among the Lake Arrowhead bars you will have fun visiting
•      Once you enter a party or a bar what do you do? Do you grab a drink immediately, spot the closest corner and head there? If this is the case, the most suitable bar for you among the mentioned ones would be The Lakefront Taproom Bar and Kitchen.
If you are a person who once in a bar/party makes conversation with the people around or hits the dance floor, then the best place in Lake Arrowhead to turn up would be The Tudor House
•       Determine what the most appealing thing about a bar is for you. If you like the crowded places and patios to hang out, then definitely Bear Claw Saloon is for you. However, if you prefer a small turnout bar with some live music then among the Lake Arrowhead bars the most suitable one for you would be Rock & Brews San Manuel Casino