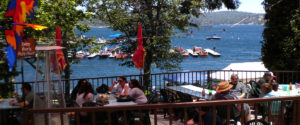 Lake Arrowhead village is the center of this picturesque lake. Because it features several shops, outlet stores, fine dining, and entertainment, it is popularly referred to as Lake Arrowhead downtown. In this beautiful place, there is so much to do that a visitor is spoilt for choice because there is always something for everyone. On that note, a business owner looking to expand his/her business in Southern California should consider doing the expansion in Lake Arrowhead downtown. Here is why.
1. Arts and Sciences
Lake Arrowhead communities have a lot of cultural events and organizations. In your business, this translates to reaching a larger market by participating in these events either directly or indirectly. This beautiful Village hosts events all year long including the county's largest free Oktoberfest. Others include a free Summer Concert Series and many other customized events such as dog shows, the famous Antique Wooden Boat, car shows, the Tour de Lake Arrowhead, and the Home Expo Moreover, associating with some of the non-profit corporation puts you on the lookout for fresh ideas that could benefit your business.
2. Strategic location
With a dynamic population and an increasing number of franchises, Lake Arrowhead downtown is the economic center that is at the intersection of State Routes 173 and 189. Also, outside of Lake Arrowhead Village, there are residential communities that include Crest Park, Blue Jay, Cedar Glen Rim Forest, Agua Fria, Sky Forest, Hook Creek Tract, Twin Peaks, Deer Lodge Park. Having this in mind it is safe to say that it is the optimum place for all types of businesses
3. Customer expectation
One of the rules of expanding your business into a new territory is to find out your target customer's expectations and exceed it. This is important so that you as a business owner establish trust and understanding of different target markets. Lake Arrowhead downtown is a mix of all cultures, permanent residents, tourists and other business owners. According to the 2010 United States Census,
4. Low Cost of Entry
Despite being a small town, Lake Arrowhead has the best online presence with hotels, vacation rentals, shops, online stores, restaurants, and things to do a mouse click away. As a result, downtown of Lake Arrowhead is a home of limitless potential with incredibly low costs of entry.
5. Plenty of investment opportunities.
Lake Arrowhead's economy is almost entirely supported by tourism being a scenic mountain resort. The downtown of Lake Arrowhead in the San Bernardino Mountains gets both casual vacationers and part-time residents. The leading tourism industries include recreation, real estate, dining, lodging, and retail sales. Tourism being the primary economic driver for the area, several million dollars is generated per year to the county through lucrative business thriving either directly or indirectly. Therefore, these statistics give investors yet another reason to invest in Lake Arrowhead. Most of the employers are from this industry providing 700 part-time jobs and 600 full-time and for residents.
6. Taxes
The sales tax rate is 8% with an income tax of 8% in Lake Arrowhead, Southern California. Below are some relevant economic statistics of Lake Arrowhead downtown when compared to the Country as of 2016.
Recent job growth was 3.44% in Lake Arrowhead while the US had a recent job growth of 1.59% with a future job growth of 40.49% and 37.98% respectively
Lake Arrowhead had a sales tax rate of 8% compared to 6% of the country while the income tax of 8% and 4.60% respectively.
7. Income
The income per capita is $29,997 that includes all adults and children. The median household income is $64,461. The following are the population per occupation statistics, which will help you find out where there is an untapped market and perhaps provide the service.
| Occupation | rate in Lake Arrowhead | rate in USA |
| --- | --- | --- |
| Production transportation | 2.88% | 2.09% |
| Maintenance construction | 0.66% | 8.24% |
| Business finance, management | 30.35% | 14.54% |
| Legal | 3.14% | 1.16% |
| Farming, fishing, forestry | 0% | 0.73% |
| Healthcare practitioners and technology | 5.80% | 5.67% |
| Personal care | 2.60% | 3.65% |
| Social services community | 1.01% | 1.67% |
| Food service preparation | 3.65% | 5.76% |
| Media, sports, design, arts | 2.79% | 1.91% |
| Computer science engineering | 7.45% | 5.34% |
| Library services education | 7.16% | 6.13% |
| Law enforcement fire brigade | 2.47% | 2.23% |