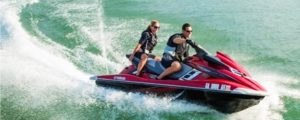 What could be more fun than popping out on a jet ski on a beautiful summer day? Jet skis are relatively easy to pilot and fun to drive around. There's nothing better than going out with a couple of friends onto a beautiful lake, hopping from beach to beach, and occasionally cutting across some chop on the water for a little excitement.
Jet skiing is a popular and fun way to get out onto the water. In California, anybody over the age of 16 can pilot a jet ski. Even younger teenagers between the ages of 12 and 15 can give it a try, as long as they are supervised by an adult (18 and up) onboard the craft. Because jet skis can also carry passengers, it can be easy for the entire family to enjoy a jet ski outing.
Water Recreation on Lake Arrowhead
Less than two hours from Los Angeles, Lake Arrowhead is a beautiful village perched on the edge of a lake. The lake is beautiful and pristine, so it is always a popular destination for Angelenos who want to get out of the city and experience a crisp lake breeze.
kayaking, and jet skiing are all popular activities. However, Lake Arrowhead is a private lake. All boaters must own property (or, they must be the guest of a property owner) within the "Arrowhead Woods" area around the lake, and must belong to the Arrowhead Lake Association before they can take craft out on the water.
Lake Arrowhead Jet Ski Rental Companies
Fortunately, there are Lake Arrowhead jet ski rental facilities conveniently located on Lake Arrowhead. Invert Sports operates Lake Arrowhead Jet Ski Tour and Rental, and they operate a full-service jet ski rental and tour company right on the shores of Lake Arrowhead.
Lake Arrowhead Jet Ski Rental allows guests to rent jet skis and take them out on the lake. Meet them down at the marina in Lake Arrowhead Village for a quick rundown on safety gear and protocol, and then hop onto your jet ski and get out on the lake for some fun in the sun.
However, if you're not the sort of person who can hop on a power boat and feel comfortable zipping away on it, Lake Arrowhead Jet Ski Tour and Rental also offers guided tours. Book a full day or a half-day tour and have one of the company's guides give you pointers on how to drive the jet ski and show you the best parts of Lake Arrowhead.
Although Lake Arrowhead is a very popular vacation destination, Lake Arrowhead jet ski rental spots are limited. If jet ski rental in Lake Arrowhead isn't a possibility, there are several companies that offer jet ski rental near Lake Arrowhead.
Big Bear Lake is less than ninety minutes away from Lake Arrowhead and has much less stringent boating rules. As a consequence, there are several jet ski rental companies that operate on Big Bear Lake. Both North Shore Landing and Big Bear Rentals in Big Bear, CA, offer jet ski rentals. Additionally, Designated Wakesports, also in Big Bear, offers wakeboarding as well as jet ski rental.
Other Lake Recreation
While an afternoon on a jet ski sounds like fun, it is not everybody's cup of tea. If Lake Arrowhead jet ski rental is not your idea of a great time, there are lots of other options for recreation in Lake Arrowhead. Be sure to check out all of the great recreation opportunities in town; there is something for everyone.
If it's a more involved water sport you're interested in, McKenzie's Water Ski School has you covered. Offering both water skiing and wakeboarding lessons, McKenzie's has been a fixture on Lake Arrowhead's waterfront since 1946. They promise to serve all skill levels and abilities, from novices to seasoned pros.
Those in the mood for a more sedate afternoon on the water may enjoy a tour of the lake on the Arrowhead Queen. This is a paddle wheeler boat tour that allows guests to relax while learning about the history of Lake Arrowhead. It is fun for the whole family and a definite must-see for history buffs.