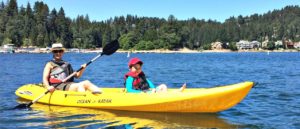 Nothing beats a warm, sunny, summer day out on the lake. While motor boats are as popular as ever, more and more people are trying out non-motorized boats like canoes and kayaks. These are easier on the environment because they don't disturb wildlife nearly as much as motor boats do, and they don't require fuelling (beyond what you had for breakfast, that is).
However, kayaks are expensive. Most people like to try before they drop hundreds of dollars on a new hobby. That is where kayak rentals come in. A kayak rental service lets you try on the hobby with very little risk. If you don't like it, you just return the kayak at the end of the day.
Lake Arrowhead Kayak Rentals
Lake Arrowhead is a prime location for all kinds of boating. The gorgeous natural surroundings of the area make it a perfect place to try a water sport. While it is famous for sailing, Lake Arrowhead is also home to avid motor boat users, canoeists, and kayakers.
However, Lake Arrowhead is a private lake. In order to put a boat into the water in Lake Arrowhead, one needs to own a home (or be a homeowner's guest) in a roughly mile-wide strip around the lake, called "Lake Arrowhead Woods". Homeowners also need to belong to the Arrowhead Lake Association and display a decal on their boats. The boats of nonresidents are not allowed on the lake, and those in violation may face penalties. As a result of these restrictions, it is a lot harder to try kayaking on Lake Arrowhead as there are no Lake Arrowhead kayak rentals facilities.
Kayaking near Lake Arrowhead
While there are no Lake Arrowhead kayak rentals, there are plenty of rental facilities on nearby lakes. Although they are a bit of a drive from the Lake Arrowhead area, some of these areas offer full days of kayaking fun and beautiful natural environs.
At only eight miles by road from Lake Arrowhead, the village of Crestline is an easy drive from the main resort area. Crestline is home to Lake Gregory Regional Park. Here, boating is unrestricted, which means that this is a great place to bring a small craft if you have one. The park facilities also offer kayak rentals; and at $20 per hour, you will be hard pressed to find a better deal on a kayak rental.
Slightly further west of Crestline is Hesperia, California, and Silverwood Lake. While Silverwood, like Lake Arrowhead, is restricted, it is not exclusive to people who own homes near it. Instead, authorities merely limit the number of boats allowed on the lake to 125 at any time and charge nominal day use and boating fees. Because of the restriction, it is recommended that visitors who wish to put a boat into the lake make a reservation. Boats brought to Silverwood Lake are also required to undergo a quagga mussel inspection; they must be drained, dry, and clean in order to pass. This is in order to protect the lake and its fishing from this disastrous invasive species.
However, the Silverwood Lake Marina has everything you need to enjoy a day in a rented kayak. Fun2Go offers kayak rentals right on the lake, and other vendors and concessions in the park offer everything else you need to have a great day on the water.Finally, Big Bear Lake is another lake approximately 20 minutes' drive east of Lake Arrowhead. Kayak rentals options are probably the most plentiful at Big Bear Lake. With marinas dotted around the lake, there is definitely a kayak rental facility that will offer what you need.
The eponymous Big Bear Marina is known for its friendly staff and easy rental process.
Pleasure Point Marina opens the earliest, which is perfect for people who want to catch the early morning sun on the lake.
Paddles and Pedals rents both paddle boats and kayaks, and is conveniently located within walking distance of the Serrano campground in Big Bear.
Last, but not least: Captain John's Fawn Harbour offers very reasonable kayak rental rates. However, the real star of the show here is the guided kayak tours they offer, where a staff member takes your group out on the water and shows you the best wildlife viewing and sightseeing spots.
However, maybe you're hooked on the idea of Lake Arrowhead kayak rentals, and these other locations just won't do. In that case, it is possible to get access to Lake Arrowhead through renting a vacation rental that offers kayak use as a part of the package. These types of rentals are often called "Vacation Rentals By Owner" or VRBOs. As renters the homeowner's guests would be able to take the homeowner's registered kayaks out on the lake.
While there is a dearth of Lake Arrowhead kayak rentals, it doesn't mean you can't get out there on the lake and enjoy yourself. If renting a VRBO isn't possible, there are always waterskiing lessons at the legendary McKenzie Water Skiing School and Lake Arrowhead Jet SKi Tour and Rental. Both of these Lake Arrowhead companies promise loads of fun out on the lake for everyone.