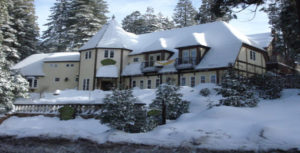 Situated less than two hours' drive from Los Angeles and Orange County, Lake Arrowhead is the perfect weekend getaway spot. People from all around southern California and the world come to experience the San Bernardino mountains wilderness and Lake Arrowhead's famous resort community.
Not only does the region offer unforgettable scenery, it is also the scene of numerous one-of-a-kind activities. Visitors can hike and bike in San Bernardino National Forest, sail on gorgeous Lake Arrowhead, and dine one of many local restaurants. The region also boasts first-rate wine tastings, art exhibitions, concerts, and theatre events. Whether you're looking for a quiet getaway in the wilderness or a luxurious, boutique vacation, Lake Arrowhead is definitely a must-see vacation destination.
As one of the top destinations in the Inland Empire, Lake Arrowhead offers a wide variety of inns, bed and breakfasts, and boutique hotels. There is definitely a Lake Arrowhead inn that you're going to love.
Arrowhead Lake Inn
This Inn in Lake Arrowhead is a cozy hideaway situated walking distance from Lake Arrowhead Village on Lakes Edge Road. This hotel offers a variety of different kinds of rooms, though they are all clean and well-appointed. Some rooms even boast a gorgeous view of the lake.
While this hotel does not offer on-site dining, it boasts complimentary breakfast and it is conveniently located close to many of Lake Arrowhead's finest dining options. It is also perhaps one of the most romantic places in the village; it was declared one of the best place to kiss in southern California in a recent travel guide. Whether you are travelling with your sweetheart for a romantic getaway or with your family for some fun in the sun, this Lake Arrowhead inn is a perfect exemplar of comfortable hospitality.
Lake Arrowhead Chalets
Mere steps away from Lake Arrowhead Village are the Lake Arrowhead Chalets. This Lake Arrowhead inn offers contemporary rooms and warm decor with a local flare. Each room is comfortable and clean, and many of them are furnished with amenities like private balconies, full kitchens, and fireplaces. There are even barbecue facilities on offer for guests to use.
Close to the mountains and lake while still offering all kind of homey comforts, Lake Arrowhead Chalets is a great place to stage a weekend full of skiing or sailing. This place would be a great place for a family getaway. It has everything you could need for a fun family vacation.
Saddleback Inn
Yet another hotel within easy walking distance of Lake Arrowhead, this inn offers its guests a unique assortment of private cabins. Guests can rest easy in their comfortable, secluded hideaway. The Saddleback Inn also offers several conveniences like onsite dining and entertainment; the karaoke night on Tuesday and Friday evenings is something of a local institution. This Lake Arrowhead inn is a great place to spend some time while you take in the sights and experiences of the beautiful San Bernardino mountain region.
Arrowhead Mountain Inn
Located right on the main road to Lake Arrowhead Village, Arrowhead Mountain Inn is excellent value for money. This newly-renovated hotel offers very attentive staff and clean and comfortable rooms. Out of all the Lake Arrowhead Inns on this list, this place is the best for those on a tight budget. However, this is definitely a place worth checking out during your stay in Lake Arrowhead.
Arrowhead Pine Rose Cabins
If it is a more rustic experience you are after, Arrowhead Pine Rose Cabins in nearby Twin Peaks is a quiet retreat in the gorgeous montane forest. These cabins really give a sample of local color, between the authentic architecture and regional decor. Offering accommodations ranging from cabins built for two, to lodges built for large groups, this place is perfect for any kind of vacation.
Lake Arrowhead Resort and Spa
While some of the other offerings are homey or rustic, Lake Arrowhead Resort and Spa is a luxurious mountain resort that offers some real pampering. The beautifully-appointed rooms have a woodsy, mountain resort theme, but the amenities offered here are all first-class. Enjoy the full-service spa or lounge poolside and take in the resort's lovely view of Lake Arrowhead. The Lake Arrowhead Resort and Spa also offers on-site dining and is conveniently located near the many attractions of Lake Arrowhead Village. This is the hotel to stay at for a magnificent experience.
Whether you are looking for a romantic getaway, a big family vacation, or an epicurean adventure, a Lake Arrowhead inn offers the perfect place for you to stay. Come for the beautiful mountain scenery, and enjoy everything that Lake Arrowhead has to offer.