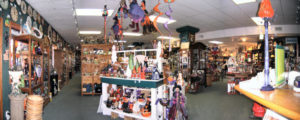 Two Essential Stores to Visit While Shopping in Lake Arrowhead
Imagine this: You're relaxing lakeside, sipping an iced tea from a local coffee shop and listening to the sounds of the surrounding forest as you drift in and out of sleep. With the sand between your toes and the sounds of mellow, chirping birds above, you think to yourself: There are few things more satisfying than meditating in nature and allowing your stress to simply melt away. The place you're at is Lake Arrowhead, and the forest you're surrounded by is the San Bernardino National Forest. You've slipped quietly into one of the most pristine, natural landscapes in Southern California; and thanks to the abundance of things to do in Lake Arrowhead, you have yet to experience a day of boredom while you soak up the remaining rays of sun and focus on one thing and one thing only: relaxation.
A Retail-Therapy Paradise Hidden in Nature
After your luxurious day at the lake, you head back to your hotel, purposely driving through the quaint streets showcasing numerous Lake Arrowhead shopping plazas, restaurants and entertainment venues. As you drive through a charming shopping center named Lake Arrowhead Village, you see a variety of different places ideal for some much-needed retail therapy. Rustic furniture stores, independently-owned clothing shops and irresistible book stores all line the streets of this infamous Lake Arrowhead shopping plaza; and as you approach your hotel, you vow to yourself that you absolutely must explore this charming little area before boarding your flight home in a couple of days.
Stop, Drop and Shop at Lake Arrowhead Village
It's rare to find a vacation spot that simultaneously incorporates jaw-dropping, enthralling elements of nature with one-of-a-kind shopping plazas, restaurants and entertainment venues. Lake Arrowhead is unique because not only does it provide vacationers a front-row seat to the San Bernardino National Forest and the crystal clear waters of the lake, but it also provides an abundance of retail therapy opportunities, as well. As one of the most beloved Lake Arrowhead shopping plazas in the area, Lake Arrowhead Village is the perfect shopping destination for both families and solo travelers alike. Here are just a few of the wonderful shops, stores and venues that you'll find in this charming plaza nestled comfortably amidst the stunning beauty of Lake Arrowhead.
If you're a dedicated fashionista, then you've probably already heard about a clothing store in Lake Arrowhead Village called Sondra's Clothing. The official name of the store is actually "Sondra's Wild Sophistication"; an acutely accurate name for one of the most exciting Lake Arrowhead shopping experiences you'll ever have. Since opening in the late 1980s, this wonderful store has been purchasing extraordinary, risk-taking fashion clothing from a variety of different vendors to provide each and every customer with unique, one-of-a-kind outfits. Yet that's not all that this wonderful clothing boutique offers; the staff at Sondra's is ready, willing and able to give you honest (albeit tactful) fashion advice as you stroll through the store and build up your seasonal collection of must-have pieces. Make sure that Sondra's Wild Sophistication is the first place you stop on your Lake Arrowhead shopping spree; after you've acquired an outfit (or several!) bound to turn heads, you can continue on your journey through the rest of the stores, attractions and entertainment venues within Lake Arrowhead Village.
Shop Designer Handbags at the Coach Outlet Store
Listen up, fashionistas; because what you're about to hear might be some of the best news you've received in a while. Just when you didn't think that your trip to Lake Arrowhead could get any more perfect, you suddenly learn that there's a Coach store in a nearby Lake Arrowhead shopping plaza. However, this isn't just any Coach store; this is a Coach outlet store. To put it mildly, this doesn't just mean that you can peruse your favorite high-end obsessions; this means that you can pick up a variety of different shopping items for ridiculously discounted prices. Also located in Lake Arrowhead Village, this Coach outlet store is well-stocked with all of your favorite handbags and accessories (as well as a friendly, personable staff who are just waiting to help you find the designer bag of your dreams). So after your long, luxurious day spent absorbing the sunlight and surrounding natural views of Lake Arrowhead, treat yourself to some seriously brilliant retail therapy (without breaking the bank). Doing so will be the perfect way to wind down from one of the most rewarding, relaxing and rejuvenating experiences of your life — a pristine vacation spent amidst the breathtaking, natural beauty of Lake Arrowhead.