6 BEAUTIFUL LAKE ARROWHEAD RENTALS OF AIRBNB
There are some incredible sites in California that you can visit and stay if you want to enjoy the beauty and serenity of nature. Lake Arrowhead is one of the best-hidden secrets on the West Coast, nestled amid a collection of stunning mountains, the woods of San Bernardino National Forest, which is commonly known as the "The Alps of Southern California." It is a wonderfully gorgeous, intimate, and small mountain resort paradise that offers a plethora of outdoor recreational activities such as water and snow skiing, bicycling, hiking, fishing, trekking, and much more. Aside from the breathtaking beauty and fauna, these mountains offer natural tranquility that has drawn people for centuries.
Every year, nearly 3.5 million people visit Lake Arrowhead. There have been more than 380 motels, hotels, and bed & breakfast rooms, as well as Lake Arrowhead homes for rent, like condos, rustic cabins, lodges, and resorts. The Lake Arrowhead Country Club and Golf Course, Lake Arrowhead Yacht Club, and SkyPark at Santa's Village are all located in the Lake Arrowhead neighborhood. With such amazing features, this region has become the favorite for business conferences as well. 
This magnificent scenic site is my all-time favorite to visit. It has all the elements for a superb getaway. The Lake Arrowhead cabins are one of the most popular in the Airbnb Lake Arrowhead cabin rentals searches. It demonstrates that people enjoy visiting and staying in this location to experience the stunning beauty of Lake Arrowhead. I've had a wonderful time every time I've visited, and I'd like to share some of my insights on Lake Arrowhead cabin rentals and Lake Arrowhead homes for rent to help you make informed decisions before you plan your trip. The prices vary with the season.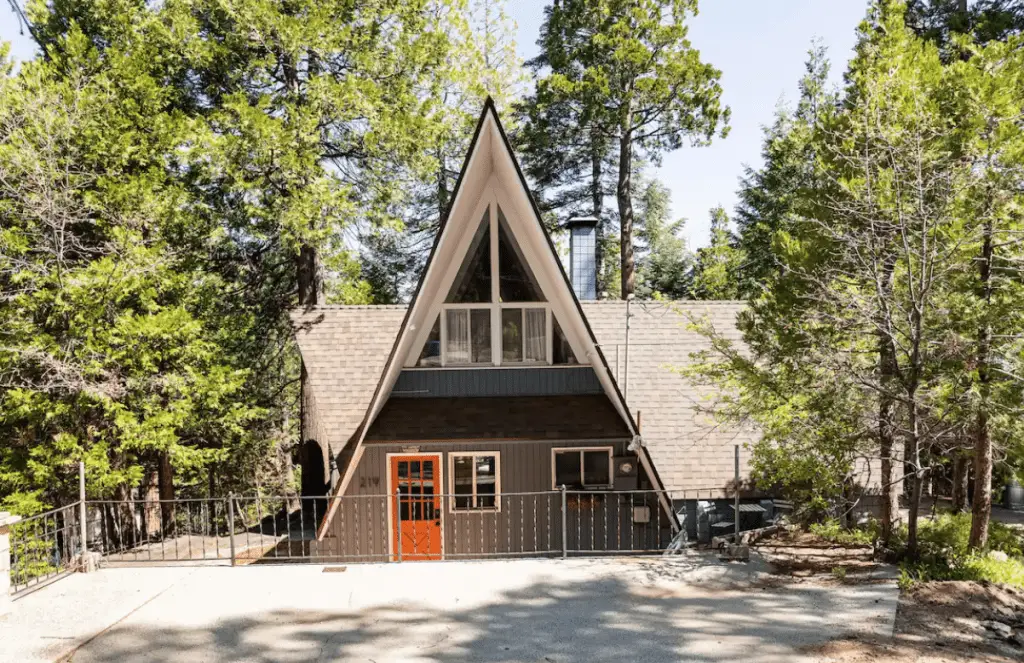 This modern A-Frame is one of the best homes in Lake Arrowhead for rent. It has the essence to relax and unwind in the beauty of this ravishing place. In this cottage you will find the peace and quiet of a modest residence with close access to everything Lake Arrowhead offers. This Airbnb Lake Arrowhead home has been refurbished and modernized while keeping the original elements that make this A-frame so unique. It is a perfect place to stay for a small family or group of friends.
Features:
At the front entrance, you're greeted by floor-to-ceiling glass doors that open onto a large porch full of trees, which overlooks the lake. The kitchen area has all you need for large or small meals, and the freshly built skylight provides plenty of natural light for preparing meals while enjoying views of the woods. The bedrooms include one private master suite and a semi-private loft space. Each bed is very comfortable, with high-quality linens and oversized pillows. The main bedroom has a king-size bed, while the loft has a queen. Relax on the oversized leather sofa in the living area and enjoy a fire in the lovely fireplace. There is a huge dining table both inside and out, as well as numerous spots surrounding the home where you may enjoy a cup of coffee beneath the trees. This is a private residence with no other inmates.
Pros
Pets are allowed.
Free Wifi
Free Parking
Washing machine
Cons
There is no television.
There is no air conditioning
Reviews
It has 280 reviews with 4.95 ratings on Airbnb Lake Arrowhead searches. One of the guests Nicole quotes: "Charming A-frame cabin in a great location! Place was easy to find thanks to Giulia's directions. Cabin was clean, decorated nicely and had everything you need. Beds were comfortable, kitchen was great to cook in. Lake Arrowhead Village is a close walk and the scenery is beautiful. It was a great stay. I'd stay here again".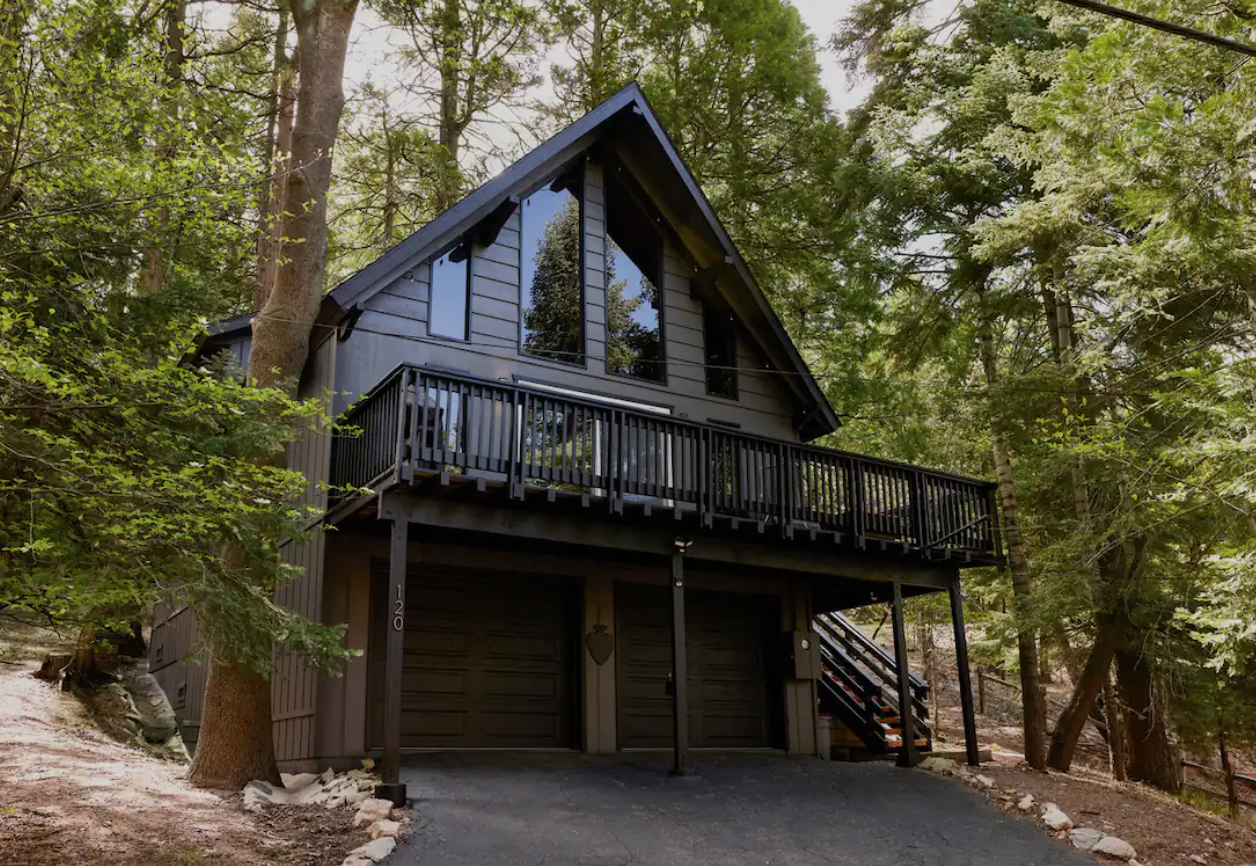 Another addition to Lake Arrowhead cabin rentals, there is this mesmerizing modern, comfortable, secluded cabin. Travel to the woods in this contemporary, cozy, and picturesque cottage. It's the ideal hideaway, with a wall of floor-to-ceiling windows, an upgraded stainless kitchen, a quiet street, and an open floor plan. You'll feel completely immersed in the forest. It is a perfect place to create memories, retreat, and refresh with fresh mountain air. This place can easily accommodate six people. 
Features:
The Lake Arrowhead homes for rent has amazing collection. This cabin with its amazing features is on top of the of the list. From the minute you enter the spacious, vaulted-ceiling area, you'll notice rustic accents with a contemporary yet cozy vibe. You'll wake up to lovely pine tree settings as the early sun streams through the windows. Everything from chopping boards, plates, measuring spoons, stirring bowls, and seasonings are available in the newly renovated kitchen. It also offers espresso and filtration, so you never have to go without a fresh coffee. The dining room may be used as a huge workstation or a virtual classroom, but it is ideal when a family gathers around for a meal.
The upper story is filled with a ceiling fan, a king bed, a set of bunk beds. The room is rather huge, so you'll all have enough room. The downstairs bedroom features a queen bed. It is situated in the trees, so the property stays colder than most, so ceiling fans in the loft and circle can assist airflow. If it becomes cold outdoors, you may curl up by the fireplace and play one of the many games supplied. You can take pleasure in your breakfast or nighttime drinks with the view of the woods or while watching Netflix on the huge LED. In the winter, you will need snow chains.
Pros
Mountain view
Indoor fireplace
Kids friendly
Free parking
Free WiFi
Free games and books
Cons
No air conditioning
There is no washing machine
Reviews
It has 82 reviews with 4.95 ratings in the Lake Arrowhead cabins list over on Airbnb.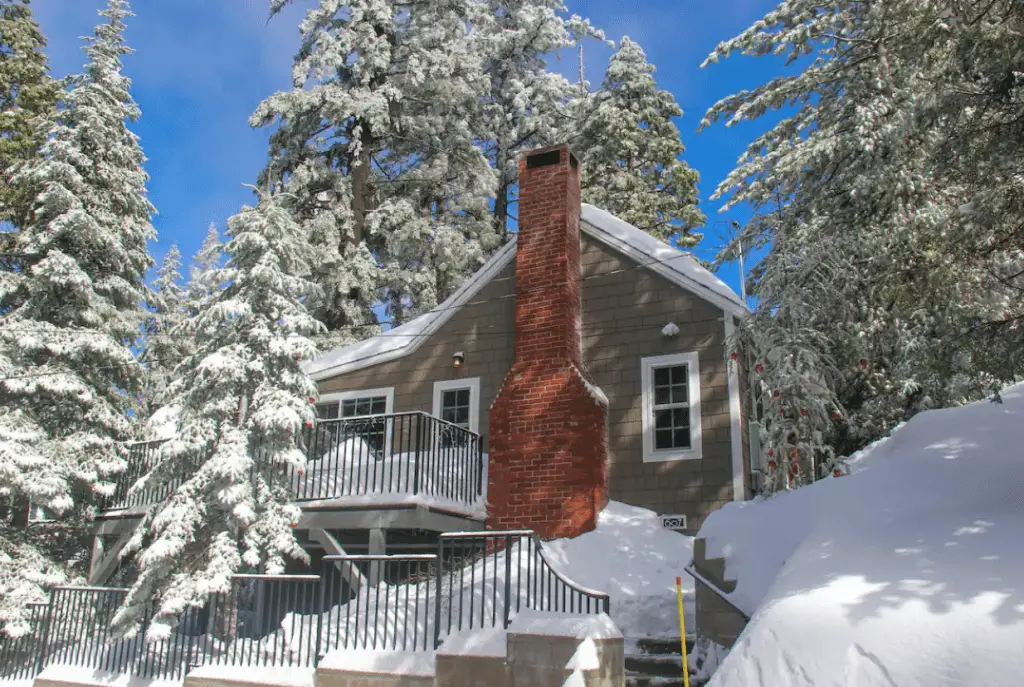 The beautiful, historic Hershey cabin has been completely renovated while retaining its history and great character. Like it is expected from Lake Arrowhead cabins, it has that authentic, comfy atmosphere. It is designed to be lovely, spotless, and perfect for a romantic anniversary, honeymoon, or getaway. It also offers a personalized hiking guide for the region around Lake Arrowhead. This place is perfect for two people. 
Features:
This one of the Lake Arrowhead cabin rentals was once held as a hunting cabin by members of the Hershey family and is now situated in Arrowhead Villas on the lush side of Lake Arrowhead. At a height of 5,500 ft, the cabin is located approximately one mile south of Lake Arrowhead Village. It is a welcoming, peaceful, and comfortable mountain retreat. The Hershey cabin has traditional gnarly woody walls and ceilings, a handmade stone fireplace, a big timber chimney, and porcelain tile flooring with classic wool rugs. It features twin pane windows that have insulation, in addition to forced air and heat. The living area is ideal for curling up by the fire and reading or watching a movie. The 4K smart TV, model 2020 by Samsung, is mounted above the fireplace. 
The bedroom has gnarly timber walls and ceilings, and the view from the windows gives a feel of being in a treehouse. The queen-sized bed features a high-quality memory foam mattress and lovely, comfy linens. A wrap-around veranda outside the bedroom has bistro tables and chairs where you may enjoy a drink of wine or a meal. Its exterior siding is characterized by its craftsman style. It also offers an easy-to-use booklet with walks and short hikes around Lake Arrowhead and the surrounding regions. If hiking is a priority for you, then this is the right rental place for you in Lake Arrowhead, CA. 
Pros
Central air-conditioning
Washing machine
Free parking
Free WiFi
Indoor fireplace
Cons
No kids allowed
No pets allowed
Reviews
It has 302 reviews with 4.96 ratings on Airbnb Lake Arrowhead homes for rent. 
One of the guest Laura said "Hershey Cabin was a great historical treat. The amount of work that went into the restoration is incredible. Every corner of the cabin was cozy and super clean. The attention to detail and decor was especially inviting and comforting. Loved the fireplace and all the updated amenities. Truly felt like home away from home in the mountains! We hope to return soon!".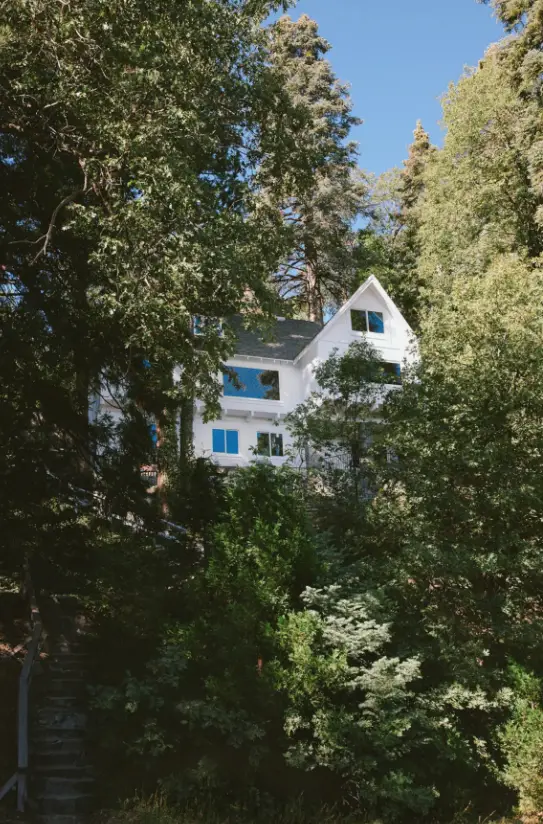 There are not only Lake Arrowhead cabin rentals, there is this beautiful Emerald Lake House is also offering the same level of comfort and view. This house offers the very best of lakefront life in Emerald Bay on picturesque Lake Arrowhead. It is a three-level cottage that accommodates eight people and has breathtaking views from every room. It is conveniently located among stores and restaurants and is the ideal retreat just under two hours from Los Angeles.
Features:
In this well-designed setting, nature meets luxury. A highly crisp white theme, natural materials, and sumptuous finishes throughout its makeover. This house drops the feeling of both luxury and modesty. It offers four bedrooms: 1 king-size bedroom, 2 queen-size bedrooms, and a couple of single beds. A complete package for family vacations is also available at this home. It is tastefully and wonderfully decorated and adorned with antiques, art, and soft designer carpets. Due to permitting concerns, the bunkhouse is not available to rent. This is definitely a place to rest and refresh, surrounded by pine trees and pure mountain air. 
Pros
Bay View/Free Lake Access
Waterfront
Free WiFi
Free parking
Air-conditioned
Cons
There is no television.
No pets allowed.
The bunkhouse is not included
Reviews
This Airbnb Lake Arrowhead lake house has 44 reviews with full stars 5.0 ratings.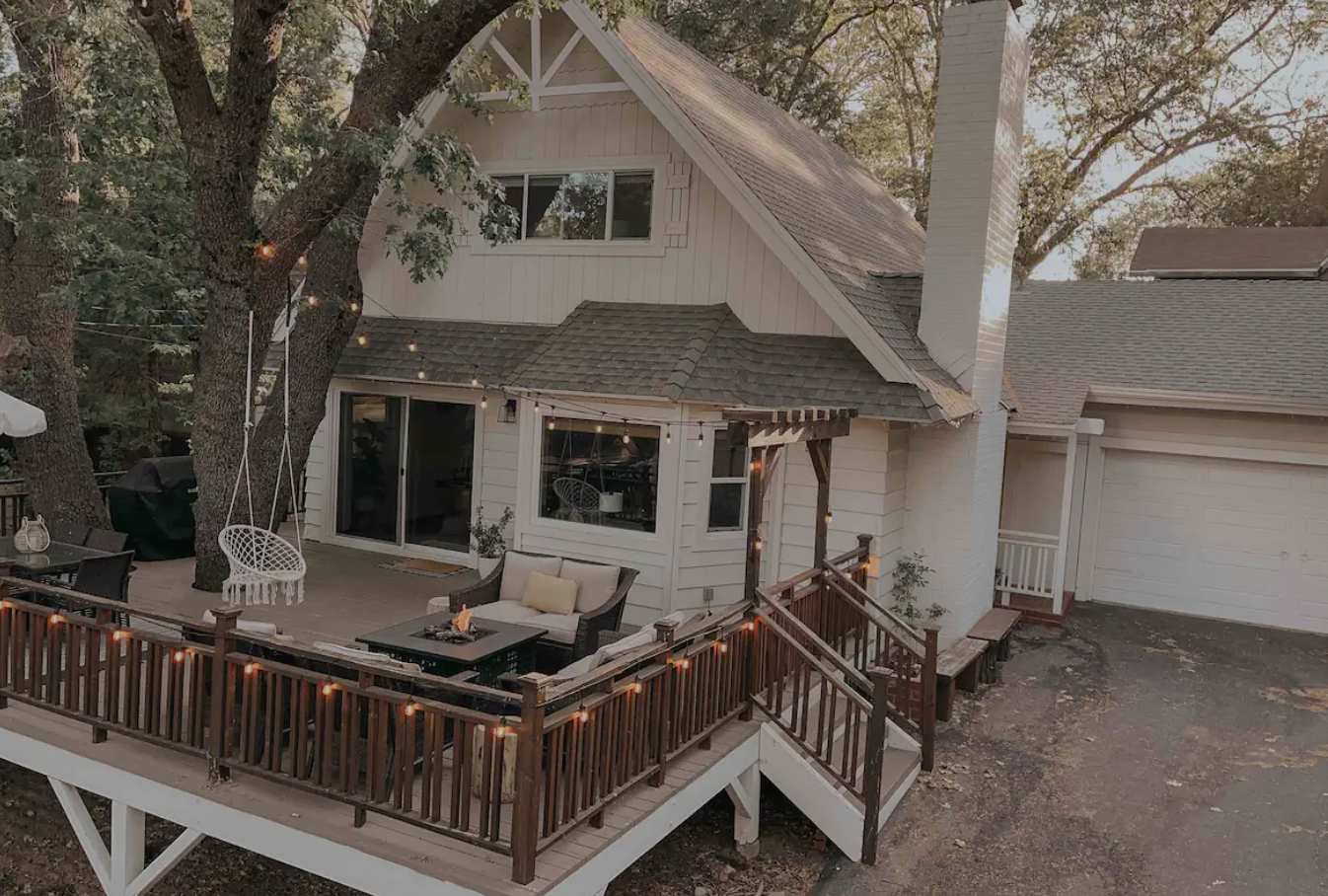 There is a beautiful cabin in the area of Lake Arrowhead named Maple Haus, a family-friendly home that can sleep up to eight people, built with an elegant design and all the amenities of a home your family requires for the ideal mountain holiday. As you wander around the area, take in the views of the lake. The house has a huge outside terrace where you can enjoy your morning coffee beneath the vast shade of woods or enjoy fireworks with the kids at night.
Features:
When you go inside the house, you are met with a bright and inviting area that has just been refurbished. As you go into the living area, you'll notice beautiful embellishments everywhere, as well as a giant flat-screen TV and a gas fireplace. Family-friendly board games, puzzles, novels, and playing cards are available for your enjoyment. There are several new throw blankets and cushions to help you relax in the evenings while watching TV or reading a book.
The charming, well-equipped kitchen provides everything you need to have a good time while cooking for your family. New quartz counters and farmhouse open shelving are another exquisite addition to the house. The large deck is surrounded by tall oak trees with an abundance of shade to relax and dine. Feel free to BBQ on the large deck! The comfortable patio furniture with umbrellas offers a great view and a sunbath. Downstairs, there is also a bedroom with a queen-sized bed.
You will also have access to a washer and dryer in the garage. It is difficult to locate a functioning two-car garage in Lake Arrowhead, but the best thing is that you can find one here. Two additional bedrooms with beautiful vaulted ceilings located upstairs. One has a single queen bed, while the other has two queen beds. Both are tastefully adorned with new sheets and a variety of attractive new blankets and pillows. Both rooms include ceiling fans, additional portable fans, and heaters for warmer evenings. In the upstairs bedroom, there is a baby gate to keep tiny ones safe from the staircase, as well as numerous other baby equipment such as a monitor, slumber pod, high chair, sound machines, and toys.
Pros
Dedicated workplace
Free WiFi
Free parking
Pets are welcome.
Kids friendly
Cons
No parties or events are allowed.
No smoking zone
Reviews
This Airbnb Lake Arrowhead home for rent has 68 reviews with full-star 5.0 ratings.
A standout among the Lake Arrowhead cabins is this Shack. This is a modern and cozy piece of heaven in the mountains. It is an A-Frame cabin, which is a lot of fun to restore. It is the perfect spot for relaxing and enjoying the environment and view of life amid pines. Snow Valley Mountain Resort and Lake Arrowhead Village are both nearby family-friendly activities.
Features:
This contemporary art-designed cabin has a lot to explore. It has the perfect combination of comfort and style. The colorful palette of the interior is soothing to the eye and defines the exemplary taste of the host. The first floor has a spacious lounge with two pull-out sofas and a fireplace. Besides that, it has a dining table with eight seats. The patio, with comfortable sofa seats, has a beautiful view of the woods to enjoy. The lower portion includes all the 3 bedrooms; 1 king bedroom, 1 couple of bunks, and 1 queen bedroom. The Shake is ideal for hosting family and friends. A well-equipped kitchen, indoor games, a backyard and a premium entertainment system complete a family vacation needs. It is also pet-friendly, with its own amenities for your canine companion. You may encounter wildlife animals such as skunks, squirrels, and raccoons. 
Pros
Free parking
Free WiFi
Pets are welcome
Kids friendly
Cons
There is no washing machine, so you will have to make your own arrangements for that. 
Reviews
This Airbnb Lake Arrowhead home for rent has 49 reviews with 4.3 ratings.